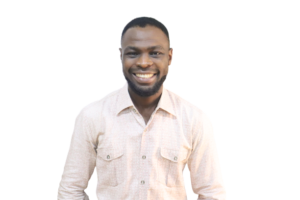 Aroh Joseph Chukwu, PT, is a senior Physiotherapist at Amazing Physiotherapy Clinic and Wellness Centre. He currently heads one of the branches at Garki, Abuja.
He is a double licensed Physiotherapist both in the UK and Nigeria by the Health and Care Professionals Council in the UK, and Medical Rehabilitation Therapists Board of Nigeria respectively after graduating with bachelors in Medical Rehabilitation from University of Nigeria, Nsukka.
Aroh Joseph has had advanced training in Basic Life Support, Community Based Rehabilitation and Acupuncture.
He has completed several clinical Rotations on Burns, Cardiopulmonary, Adult Neurology, Pediatrics, Orthopedics and Women's Health Courses in Physiotherapy, and has also managed a lot of medical cases with other medical professionals.
He loves adventure, derives joy in putting smiles on people's faces, and sees learning as a continuum. He also enjoys spending quality time with friends, family and colleagues.