What is Inpatient Rehabilitation and is It Right for You?
Making the decision about where to receive the next level of care can be confusing especially for someone who is recovering from stroke, brain injury, neurological conditions, trauma, spinal cord injury, amputation, and orthopedic injury.
Our rehabilitation programs provide ongoing care and specialized treatment to patients throughout their recovery journey. We offer customized, intense rehabilitation tailored to the individual needs.
We strives to maximize the health, function, and quality of life of those we serve through comprehensive physiotherapy and rehabilitation programs
The rehabilitation program serves patients with a variety of medical, physical, and functional needs. Some of the conditions treated in the program include:
Stroke
Spinal Cord Injury
Amputation
Brain Injury
Guillain-Barre
Hip Fractures
Joint Replacements
Multiple Trauma
Cardiac or Pulmonary Disorders
Myopathy
Progressive or Degenerative Neurological Disorders:
Multiple Sclerosis
Muscular Dystrophy
Parkinson's Disease
Spine Surgery (Back and Neck)
This is perfect for someone who's:
Injury or illness requires intensive therapy every day to help regain independence and return home sooner or someone who is willing to transform their lives after surviving a stroke, Parkinson's diseases, or general debility, spinal cord injury  or recovering from major surgeries and you wish to-
1) Return home sooner
2) Have greater success walking independently again
3) Receive more Physiotherapists, doctors and nurse time and attention and including visits by specialists
4) Have lower rates of re admission to the hospital during and after treatment
5) Reduce cost of being admitted in hospital
6) Get back to doing what you enjoy and get back your life again
We work with you to achieve five key therapeutic objectives:
Provide a quality rehabilitation program focused on your needs as the patient and the needs of your family
Restore your abilities to their maximum level of function so you can regain your highest level of independence and return home and to the community
Educate the patient, family, and/or caregiver on the specific type of injury or exacerbation of condition, and explain the plan of care and therapy consistent with treating the condition and meeting the patient's goals
Provide ongoing psychosocial support for you, the patient, in a therapeutic environment
Support the patient's long-term goals by offering continuous outpatient therapies.
Ultimate Recovery Program after Spine, Hip and Knee Surgeries and Stroke or limited movement in 30days in our inpatient rehabilitation
If getting back to being more active, independent and doing the activities you enjoy is important to you while recovering in a place whose focus is on total transformation and providing appropriate level of care to help you reach your maximum potential.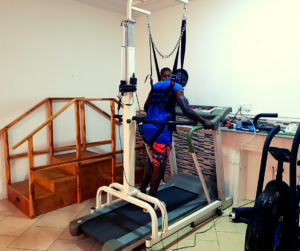 Then we are offering you a
50% saving on accommodation in our deluxe suite
Complimentary breakfast everyday
Free 24hrs Nursing care
Free Routine Doctors check UP and routine lab test
Once a day physiotherapy or occupational therapy treatment
IF you are not satisfied with our service after the first day 100% money back guaranteed
We have limited availability, we only admit 2 patients per month (we have a long waiting list) so act fast to get better results.
Enquire about our service if we are the right fit for you NOW!!!
Click on the link to know more